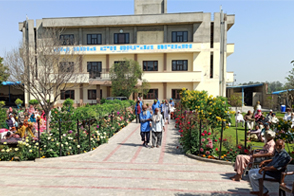 Seva (selfless service) and Sarbat da Bhala (blessings for everyone) are the basic principles of this Institute known as "Guru Amar Das Apahaj Ashram". It is a non-profitable and non-political registered charity located near village Sarabha of Ludhiana district in Punjab. Its main objectives are to provide shelter, health care and to look after the poorest of the poor that includes homeless, destitute, disabled, mentally challenged, blind, deaf and dumb, orphans, and poor sick people irrespective of caste, creed and religion.
While working as a Professor-cum-Scientist, the founder of the charity Dr. Naurang Singh Mangat sponsored education of hundreds of needy students studying in government schools. After retirement, for many years he pedaled his bicycle on the roads of slum areas in and around Ludhiana city to help the homeless sick people crying for help. He used to pick up the homeless-sick from the roadsides and other public places; take them to hospital for treatment and pay their expenses. Sometimes he even personally had to stay in the hospital to look after them. Once they were given treatment and discharged from the hospital these individuals had nowhere else to go, and Dr. Mangat was left to leave them on the roadside again. So for the proper follow up treatment and care he decided to open a FREE shelter and nursing home for such people. His determination, sincerity, continuous hard work and unflinching belief to help the poorest of the poor ultimately led to construction of three storey building of "Guru Amar Das Apahaj Ashram".
The vulnerable and homeless sick, virtually living in hell on the roadsides and other places, are brought to this Ashram where food, clothes, health care and other necessities are provided FREE OF COST. Till May 2019 about 300 homeless-sick have been admitted in the Ashram. Some of them expired; some regained health after treatment and started to earn their livelihood again. The remaining patients who are unable to improve much live in the Ashram permanently. At present about 125, (90 males and 35 females) homeless-sick are living in the Ashram. Out of these, more than 40 patients are critical. These patients are mentally and physically disabled, unable to answer the call of nature, cannot recall their own name or whereabouts.
With the more and more homeless needy patients coming to the Ashram the number of inmates is increasing every month. The third storey of the building is near completion. On completion of two more floors, the institute will be catering to hundreds of such homeless needy people in the future.